All-American Truck Driving School Guide highly recommends the institutions listed below as "Editor's Choice" schools. In our opinion, they are among the nation's highest quality training schools. They have demonstrated a continual commitment to safety, a concern for their students' careers, and a dedication to excellence in the trucking industry. They represent the highest level of academic achievement, professional skill and career development for the truck driving industry. They are the best examples of what a truck driving program should be in our opinion.
The editors of the All-American Truck Driving School Guide have evaluated many aspects of the most reputable truck driving schools across the country. We have interviewed students, graduates, school staff and employment agency counselors. National, regional and even local employers were contacted to discuss the skill level of graduates from these schools. Anonymous calls were made to some school admissions departments. We have reviewed many of the curriculum, the catalogs, and the promotional materials mailed to applicants. We often visited (anonymously) some of the facilities to inspect the training equipment that is used.
Our staff has collected as much information as possible, and we continue to do so. But based on this information, we believe that these schools represent the "best value" in the country. In other words, you will get your money's worth. We have also offered these schools an opportunity to advertise on this site because of our respect for their training. That's not to say that we have found every school in the country that is worthy of this listing. It is likely that we have not; and we continue to consider other programs. But we believe each of these schools deserves special consideration by those interested in a career as a professional truck driver.
Even if it means the student has to travel a distance or stay out of town to attend an Editor's Choice school, we believe it would be time and money well spent. After all, your training can literally make or break your career. We hear countless "horror stories" from students who received sub-standard training. Students can spend a lot of money, receive minimal skill training and driving experience, and be completely unprepared for the trucking industry. Good carriers cannot afford to hire these trainees: they're too much of a liability risk and they drive up the carrier's insurance costs. As a result, many students find themselves in heavy debt with no job because they did not know what to do. On the other hand, attend a top school and the best carriers with the highest pay, best benefits and greatest reputations will fight for you.
Drivers that are successful usually begin with a great foundation. Most truck driving school students have a dream of being successful and taking control of their lives. They want to provide for their families, own a home and live debt-free. These are basic values and admirable goals. They are also achievable goals if you get the right start to a great career. Choosing a school that wants you to succeed is a first step. That's why we take pride in developing the All-American Truck Driving School Guide Editor's Choice list of some of the "Best Truck Driving Schools in North America." Here they are: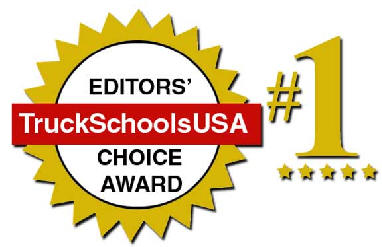 SAGE Technical Services (Nationwide training: TX, PA, NY, IN, NC, SC, FL, WY, MT, CO, ID, AZ and UT) SAGE has owned and operated truck driving schools for many years, and the management has been in the truck driver training business since the 1970s. They have locations all across the country. SAGE revolutionized the truck driving school business by being the first company (and the only one that we are aware of) that guarantees every student's driving instruction will be private, with only one student per truck. SAGE's schools have been nationally accredited, and their comprehensive program was one of the first to be certified by PTDI. This means that the basic program provides maximum hours of hands-on driving instruction with experienced instructors (in addition to comprehensive classroom and lab lessons). SAGE offers continual, comprehensive job placement assistance so graduates can always take advantage of SAGE's substantial nationwide employer network -- even after graduation. The programs have smaller classes, are reasonably priced and a variety of financial aid options are available. SAGE is nationally recognized as an industry leader. We highly recommend this company and their approach to training. This is one of the best schools in the country!
---
Fox Valley Technical College (WI). This is one of the best publicly funded truck driving schools. The school has an excellent reputation in Wisconsin and is approved and endorsed by the Wisconsin Motor Carriers Association. FVTC is supported by a variety of sources that have enabled the school to develop excellent facilities. The primary course is a 10 week comprehensive program. The FVTC Appleton campus includes the Wisconsin Decision Driving Center (WDDC), which is one of the most unique, advanced driving centers in the nation with a "live drive" skid pad.
---
Diesel Driving Academy (LA). This school has two training centers in Louisiana. In our view it is by far the best school in the state, but DDA is a name that is well-recognized nationally as well. One of the few schools that has sought and achieved national accreditation, DDA is accredited by the Accrediting Commission of the Council on Occupational Education. The schools have two exceptionally strong features: the training and job placement. The school has for over 25 years provided a solid entry level training program that makes sure students have the right skills they need to get a good job. DDA is one of the oldest and best known schools around.
---
St. Philip's College (TX). St. Philip's College is located in San Antonio, Texas. SPC is part of the Texas college system in the Alamo College District. The program has become known as one of the best programs in Texas and the southwest because of their dedication to safety and training. Their program has specialized in placing graduates in the Eagle Ford Shale area, which is a booming oilfield in south Texas. The St. Philip's training curriculum does not include any hours for "observation time". The program is one of the best values in the industry and the most affordable way to start a new career as a Texas CDL driver. St. Philip's also has financial assistance for those who qualify, and the program is approved by Texas for WIA funding. All training is one on one, which has been helpful in achieving the success of their many graduates in the over the road and oilfield trucking industries. The St. Philip's school admissions staff can assist with enrollment in the SPC program, employment options and the lifestyle of a professional trucker. Many students from other areas of the country come to St. Philip's to train because of the terrific weather almost year-round. This is a great place to start a new, high-paying career.
---
LCTI Professional Truck Driving School (PA). This school offers comprehensive 5 week programs at several campuses in Eastern Pennsylvania. They serve Philadelphia as well as the Northeastern PA region. The program has been certified by the Professional Truck Driver Institute for many years, and provides an extensive driving skills curriculum. Because these are State Career & Technical Centers, the facilities are very good. Job placement assistance is extremely important to the staff, who work successfully with many nationwide and regional carriers. LCTI has developed a reputation for having exceptional instructors who work one on one with students to ensure that they are safe, knowledgeable and ready to drive. The school is a licensed tester for the state of Pennsylvania, so students can train and test immediately.
---
Kim Richardson Transportation Specialists (Ontario, Canada). Considered by many to be Canada's foremost professional truck driving school, KRTS has taken a leading role in improving the often-criticized training that takes place in many Canadian schools. KRTS is a serious proponent of PTDI standards and technology in training. Their course offers a substantial amount of driving time.
---
Western Pacific Truck Schools (CA and WA). Operated by Nordic Enterprises, Western Pacific has been training drivers for many years, and is committed to producing quality graduates. There are several Western Pacific locations in California and Washington. The company has received the California Trucking Association's Fleet Safety Award, and has successfully graduated over 20,000 truck drivers since its founding in 1977. The school takes pride in its experienced instructors, late model equipment and a great network of hiring employers. This school runs a professional training program that deserves consideration.
---